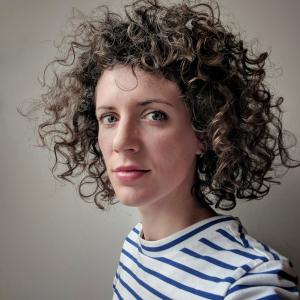 Elisabeth Heidinga
Artist member since 2018
Toronto, Ontario
In my work as an abstract painter I cut and weave the fine strips of several painted canvases to create a different kind of painting. The process is quite symbolic and metaphorical. Historically, painting is largely male-dominated and craft is traditionally identified as a female activity, and my paintings bring these two worlds together. However, this is beyond gender issues, but simply two opposing concepts meeting, challenging and rethinking the mountains that stand in our way – thoughtfully taking apart and reassembling what lies before us to create a new perspective. It's the ups and downs, the give and the take, the blunders and the victories.
I am Elisabeth Heidinga, a Toronto based artist from France, born (1981) in Cologne, Germany. I graduated with honours from OCAD University in 2010. I married my best friend, Sven and we have two boys called Noé and Joah and a little girl called Zurie.
---
Best season of the year in Toronto
Summer - ALWAYS!
What places do you hang out in Toronto?
Queen Street West - mostly at the best icecream places
Which piece of art you've created is your favourite, and why?
My current pieces. They really embody a whole lot of me
Describe your home in 3 words
Concrete, white, toys
Beverage of choice
Kombucha
When I'm not making art, I'm (a) ...
A full time mother to my 3 little wild ones ;)
Accolades
2017
Ontario Arts Council
Emerging Visual Artist
SHARE THIS ARTIST